Posted by
Tom Naughton
in
Media Nonsense
,
People Are Nuts
,
Politics
Welcome to my first post in a looooong time. As I explained when I retired the Fat Head blog, I've gone into semi-retirement mode (meaning I no longer work the equivalent of two jobs) and have no intention of returning to writing long posts two or three times per week. I was satisfied to make comments on Twitter.
The people I refer to as Little Goebbels on Twitter had other ideas. I've been in Twitter jail for more than month.  Little Goebbels informed me I was suspended for "spreading misinformation about COVID-19." The "misinformation" tweet is below, along with Little Goebbels' generous offer to appeal or delete the tweet.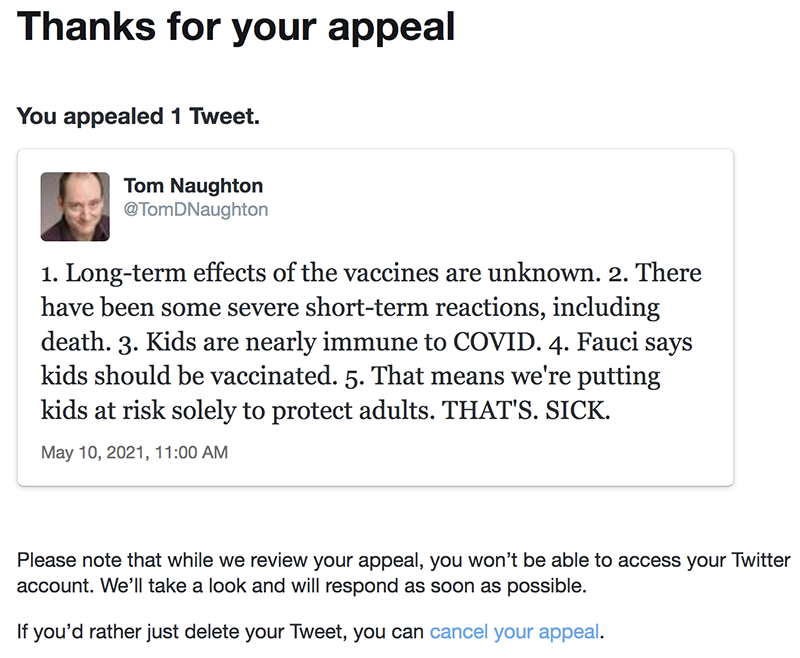 My appeal was simple: I made five statements in that tweet. If I'm "spreading misinformation," tell me which of the five points is false.
Despite assuring me "We'll take a look and will respond as soon as possible," more than a month went by. Apparently it takes a long time for Little Goebbels to re-read a tweet and say, Hey, wait a minute! All five statements are clearly true, so this can't be misinformation!
But of course, all the Little Goebbels working at Big-Tech social media aren't actually trying to stamp out misinformation. They're simply acting as obedient lapdogs and silencing anyone who disagrees with The Party. They define "misinformation" as any message The Party doesn't want people to hear.
Over the past year, they've de-platformed people for saying the virus escaped from the Wuhan lab, hydroxychloroquine can reduce COVID symptoms, and vitamin D can prevent COVID infection – all of which turned out to be true, yet all were labeled "misinformation" just a few months ago.
The Babylon Bee put it perfectly: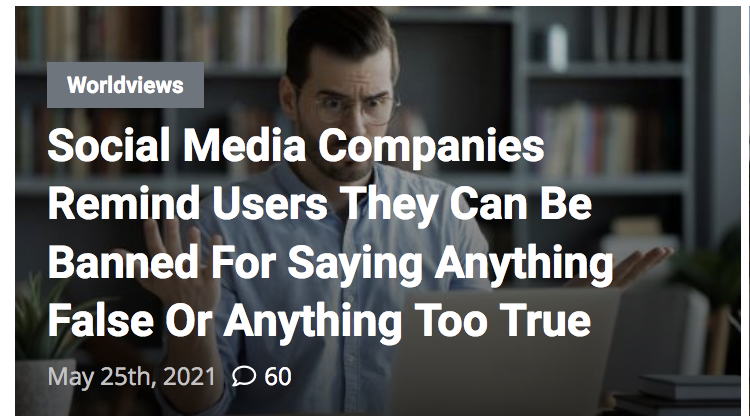 The only acceptable message is that the vaccines are completely wunnerful, wunnerful, they can't possibly harm anyone, and everyone should get them. That's what The Party wants, and Little Goebbels is nothing if not loyal to The Party.
The irony is that just a few years ago, I gave a speech explaining how social media was enabling the Wisdom of Crowds effect by bypassing the information gatekeepers and allowing us to share information with each directly. Turns out The Party and Little Goebbels aren't big fans of The Marketplace of Ideas.
I've been hearing for years how awful it is that people who disagree politically are separating into their own worlds and not having discussions. Duh. "Progressives" clearly have no interest in discussions. To them, a "discussion" consists of "shut up and agree with us, or we'll ban you."
Since I'll likely be banned again from Twitter for speaking truths The Ministry of Truth wants stifled, I'm resurrecting this blog as a place where I can speak my mind. They'll be short posts, which I'll likely update frequently … like my own little Twitter timeline.
I've also joined Gab (@TomDNaughton), but don't spend much time there yet.  As far as I can tell, Gab is 100% libertarians and conservatives. That's the predictable result of Little Goebbels running Big-Tech social media: those who are censored for disagreeing with The Party go elsewhere, and we separate into our own echo chambers. History says this won't end well.
So, Twitter, here's my appeal: never in history have the people who silence opposing ideas turned out to be the good guys – and you're not going to be the first. You're the bad guys. You're just too @#$%ing stupid and too caught up in the True Believer mentality to realize it.